Custom Ponds & Water Features
Environmental Design & Landscaping, LLC.
Custom Outdoor Ponds & Water Features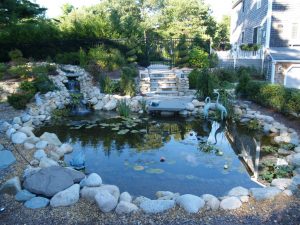 Environmental Design and Landscaping can create a beautiful soothing natural oasis on your property with our outdoor pond and water feature services. It is widely known the presence of flowing water and nature has the ability of relieving stress, and can help you to relax after a long day of work. An outdoor pond can also attract wildlife such as butterflies, frogs, and birds, which will add fun and pleasurable element to your landscape.
Whether you are interested in a large Koi pond, pondless waterfall, fountain, waterwall or other water feature, the professionals at Environmental Design & Landscape can assist you with all elements of the design, installation and maintenance of your pond or water feature. For our commercial customers, ponds and other water features are an excellent addition for restaurants, hotels, indoor malls, and office buildings. We can also incorporate landscape lighting into the design of your pond, which will add a great effect to your water feature in the night time.
Contact us today to learn more and to schedule your no-cost estimate and consultation!
How Can We Help You?
Environmental Design and Landscaping LLC was created in 1998 to provide homeowners with a creative landscape design and build service. We can design the landscape of your dreams by the way of retaining walls, installing ponds, design and installation of a hardscape patio, and creating a new design element by adding plants, perennails and trees. Contact us today to schedule your No-Cost consultation!